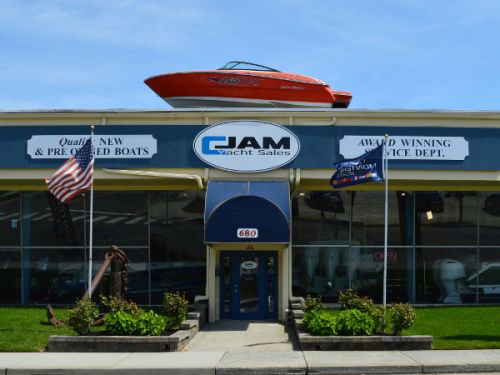 September 15th, 2021
October 1, 2020
For Immediate Release
South Jersey Yacht Sales Acquires C-Jam Marine Cape May, New Jersey - South Jersey Yacht Sales is pleased to announce the acquisition of C-Jam Marine. The transaction, which closed today, adds the two C-Jam locations in Somers Point and Egg Harbor Township, New Jersey and includes 12.4 acres of service, storage, sales offices and showroom capabilities for boats of all sizes.
Conveniently located just one mile from Great Egg Harbor Inlet, the Somers Point location features a fully secure gated property that includes a showroom and a full service marina with 42 slips with floating docks, fueling and pump out capabilities, service department and marine store. 70- and 60-ton Travel Lifts and a 10-ton forklift will allow the facility to provide haul-out capability. Engine, fiberglass, paint, canvas and electronics service, repair and installation are just some of the services that will be available for customers. The Egg Harbor Township facility is a fully gated property and will provide year-round service as well as land storage capabilities.
Strategically located between South Jersey Yacht Sales current Cape May, Point Pleasant and Brielle Yacht Club locations, the C-Jam acquisition will offer New Jersey, Pennsylvania, Delaware and surrounding areas best in class sales and service capabilities. "We're extremely excited about the acquisition of C-Jam Marine," notes George C. Robinson III, President of South Jersey Yacht Sales. "This addition to our portfolio will provide better service to South Jersey Yacht Sales clients, existing customers and new customers from surrounding areas and further highlights the representation of our premier lines of Albemarle, Invincible, Jupiter, Valhalla, Viking and Yellowfin in the New Jersey and surrounding market." Robinson also noted South Jersey Yacht Sales plans significant capital improvements to both properties.
South Jersey Yacht Sales has experienced tremendous growth in sales since Robinson acquired the company in February 2017. "Boaters in the Mid-Atlantic region recognize South Jersey Yacht Sales as the preferred lifetime source for premium, recreational boats. This strategic acquisition provides a more robust business platform for us to be a leading dealer and representative of high quality boat builders in the New Jersey, Delaware, Maryland and Pennsylvania markets."