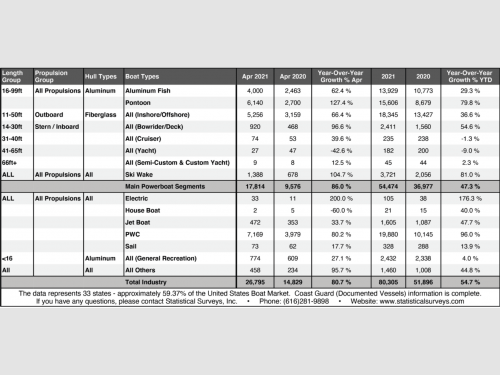 September 15th, 2021
In the past year, boat sales have gone through the roof! Pilemrinary data from Statistical Surveys, done by a Michigan Firm that tracks new boater registration, shows that there was an increase of boats purchased that began in the spring of last year and has only escalated up.
There has been an 86% increase in registrations in the main powerboat categories from the last year and a 46% rise overall in all segments. This data represents 33 states, 59% of the U.S. boating market. This month alone there has been an 81% increase in sales throughout all categories.
These trends show a positive trajectory for the summer. Thus an influx of boat builds as many companies are expanding their facilities and boosting their production. Brunswick Corp, for example, plans to increase Boston Whaler production by 40% as soon as their Palm Coast facility is up and running. As these numbers are only going up, it marks right now as the best time to list your boat with South Jersey Yacht Sales.