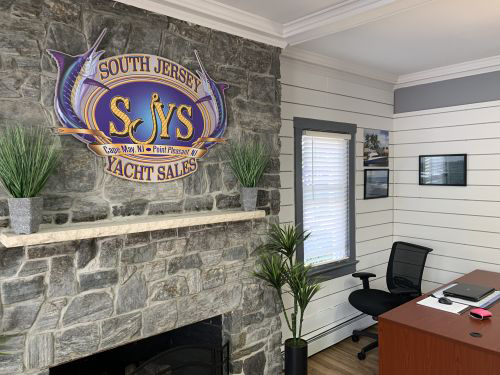 September 15th, 2021
Expanding the footprint in the Garden State, South Jersey Yacht Sales has recently opened its new sales office at the Brielle Yacht Club located at 201 Union Ave. in Brielle, New Jersey. "This location on the Manasquan River, just minutes from Manasquan Inlet and the Atlantic Ocean, puts South Jersey Yacht Sales in the heart of the central Jersey sportfishing community and will help us serve our clients in this important region," noted George Robinson III, President of South Jersey Yacht Sales. "Three locations in New Jersey provides a better opportunity to serve our market here. Additionally, our office in Palm Beach, Florida serves our clients who take their boats to Florida for the winter and provides assurances that we are here to make your boating experience as enjoyable as possible year 'round," he added.
The Brielle Yacht Club recently came under new ownership with plans to make significant investments including major renovations and improvements which will be completed in the near future. "Tom Fletcher, the new owner of the Brielle Yacht Club, and I share a common vision to make the marina the premier boating and fishing destination in the Greater Monmouth and Ocean County area," noted Robinson, adding all of South Jersey Yacht Sales brands including new models from Albemarle, Invincible, Jupiter, Yellowfin, Valhalla and Viking Yachts as well as brokerage sales and premium trades will be available at the new location by 2020. "We are really excited about our new relationship and how we can help one another be mutually successful," he added.
Complimented by a beautiful marina, offices, restaurant and bar, this new location at the Brielle Yacht Club offers South Jersey Yacht Sales clients easy access to work with team members whether they are contemplating purchasing a new boat, selling their current boat or just need some expertise regarding their existing boat. "Our experienced sales staff here includes Drew Santoro, Jeff Struble and Joe Yakup and they are anxious to serve the boating and fishing community in the area," notes Robinson.
Since taking the helm three years ago, South Jersey Yacht Sales new owner George Robinson III together with Lou Piergross, Vice President of Sales, and Drew Santoro, Point Pleasant Senior Sales Manager, together with other members of their experienced team have propelled sales growth to record highs. South Jersey Yacht Sales is the largest new boat dealer and broker in New Jersey and surrounding areas. For more information please contact the sales office at 732-899-9666.