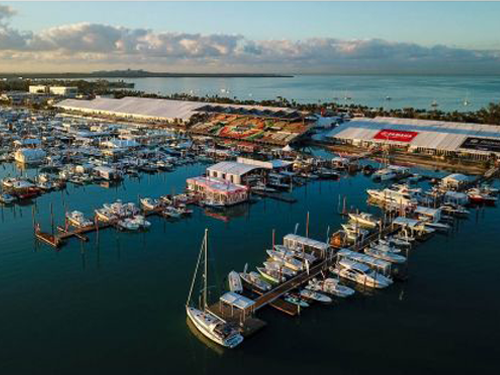 July 29th, 2021
The National Marine Manufacturers Association announced a partnership with Informa Markets to merge the Miami International Boat Show and Miami Yacht Show, including Superyacht Miami, creating one of the largest marine events in the world. The joint production will be branded the Miami International Boat Show and is scheduled to debut Feb. 16-22, 2022.
"For 80 years, the Miami International Boat Show has served as the recreational boating industry's flagship event and a prized platform to showcase world-class products and innovations to nearly 100,000 people across the globe," NMMA president Frank Hugelmeyer says. "With NMMA's new partnership with Informa Markets, together, we will take the show to the next level and deliver an unforgettable experience for our members, attendees, exhibitors and the local community for decades to come"
There will no longer be a show presence at the Miami Marine Stadium and Park on Virginia Key, where MIBS has been staged the last five years.
According to the agreement, Informa Markets will handle show management, with NMMA contributing guidance and other logistics. In addition, both will retain ownership of their respective events: NMMA keeps MIBS, and Informa Markets shares co-ownership of the Yacht Show and Superyacht Miami with the International Yacht Brokers Association.
The Miami International Boat Show and Miami Yacht Show generated a combined estimated annual economic impact of $1.34 billion, according to organizers.